标签 [ du fengyan ] 下的全部文章
▼
By Deng Zhangyu ( China Daily Africa)
At a time many urbanites around the world are being pushed to take to the bicycle amidst rising awareness about the environment and physical fitness, Du Fenyan's ambition extends to far, far more.
He has spent nearly two years riding through 22 countries across most of Africa and parts of Asia, enjoying an experience he will never forget.
When Du cycled on country roads in Ethiopia, his ears were bombarded with passionate greetings from local people who called him Bruce Lee, Jackie Chan or Jet Lee, the three most popular and recognizable martial art masters in the remote African countryside.
"They always asked questions like whether Bruce Lee was still alive as they just watched him on TV the day before," laughs the 27-year-old Du, whose face looks healthy and tanned from the hundreds of days he has spent biking in the open air.
These kinds of things happened so often that Du got used to them, and sometimes he even agreed to perform martial art for the locals. Perhaps he was the first kung fu guy to ride a bike across two continents.
For three years before embarking on his African journey in August 2011, the young rider learned one of the three main Chinese martial arts of the Wudang school, bagua zhang, which literally means "eight trigram palm". He also learned some shaolin kung fu as his hometown in Shandong province is known for that martial art.
Some men in Ethiopia wanted to challenge Du to kung fu, but after he took up his pose they changed their minds and just edged close enough to touch his arm before running off.
Du often won "fights" that way. He says it was the same when people tried to steal his belongings while he was on the road.
"I just needed to put on a good pose and stare into their eyes and they'd be scared and run away, whether they were just being friendly or were real thieves."
Du started his journey in 2011 from Nanning, a city in the Guangxi Zhuang autonomous region in South China. He rode from Thailand to India, then to the Middle East, and through Egypt into Africa in September last year.
The biggest impression Africa made on Du was that China was everywhere, from road construction sites to installing electrical equipment to daily necessities. Most Africans, he says, knew more about China than other countries and they always welcomed him warmly.
"I was invited to people's houses as an honored guest, sometimes to attend weddings or festival parties," he says.
In Sudan and Ethiopia, people called Du "China". To his surprise, they called all foreigners "China" because the Chinese workers helping them build roads and infrastructure projects were the only foreigners they had ever met.
Du's two-month stay in Ethiopia was the longest of his journey. He says in Ethiopia he went anywhere there was a road. He even learned a little Amharic, the local language. People there told him that China had helped them a great deal in building infrastructure, whereas some countries just want to take the country's resources without giving anything back.
And if Du had a problem or needed somewhere to sleep in an African city, he could easily turn for help to Chinese people working there.
"I loved meeting different people and seeing their various lifestyles," he says. "And I loved seeing beautiful scenes that some people may never have the chance to see."
Once when he was camping in the wild, he woke one morning to find many deep footprints and elephant droppings in front of his tent. He was also confronted while in bed by two wolfdogs staring at him.
He even rode across a wild national park in Namibia, which the natives dare not do because of the many beasts of prey there.
"When I recall all these experiences, I feel afraid. But I felt no fear at the time."
Watching movies on his laptop, collecting music from the places he has visited and posting pictures online were his only entertainment on the road.
The two-year journey cost Du about 40,000 yuan ($6,560). This included four flights and buying a camera. About 10,000 yuan came from donations from people he met on his journey.
One man he met in Djibouti gave him $400 and bought him several meals because, he said, people had done similar things for him when he was riding a bike through Europe.
Du was born into a farming family in Heze in Shangdong province. He is the second of five children. His family and friends strongly opposed his decision to resign from a Beijing-based package company where he worked as an IT engineer. His family's neighbors called him a loafer.
"I just wanted to realize my childhood dream while I was still young," Du says. "I didn't think too much about anything else."
During his two-year journey, Du rode about 3,500 kilometers, according to his stopwatch.
He chose to spend so much of that time in Africa for the simple reason that visas to most countries there are cheap and easy to obtain.
When he came back to China from his final African destination, Cape Town, what happened in those two years felt like a dream. But he realizes he made a spiritual fortune in Africa.
"No matter how desperate I might feel in the future, as long as I think of the joy of riding on all those roads, I will regain my energy," he says.
Du says more and more Chinese young people will explore the world by cycling. He met many while he was in Africa. And there is always the possibility that he will make another cycling journey one day.
dengzhangyu@chinadaily.com.cn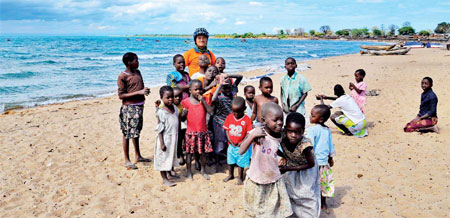 Du Fengyan with children around Lake Malawi. The Chinese cyclist rode through 22 countries across most of Africa and parts of Asia. Provided to China Daily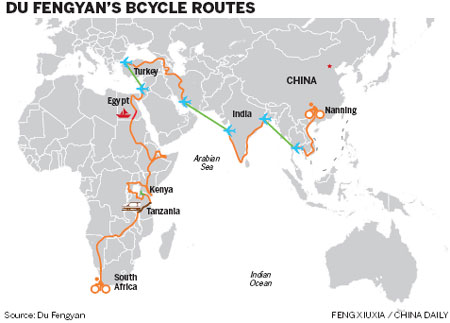 from:http://africa.chinadaily.com.cn/weekly/2013-11/08/content_17090978.htm
THIRTY-five thousand kilometres after Du Fengyan climbed on to his bicycle in China he arrived in Cape Town. It took him two years, pedalling through 22 countries across South-East Asia, the Middle East and Africa, to arrive in the Mother City last week. He has wanted to travel the world on a bicycle since he was a child.
PICTURE: TRACEY ADAMSWILD RIDE Yang Huaiyu, left, and Du Fengyan arrive in Cape Town after cycling 35 000km from China  SOUTH AFRICA
"Riding a bicycle is free and you can stop anywhere," said Du.
Du saved for two years and quit his job as a network engineer in Beijing in 2011. He built his own travel bike and left with 70kg of luggage – a GPS, clothes, cooking and camping equipment, medical supplies, $3 000 (about R30 000) and two good luck charms from friends.
He crossed over the 5 600m high Mila mountain pass in Tibet, cycled though Vietnam during the rainy season, the low, flat plains of Cambodia, slept in temples in Thailand, and in India he spent six months volunteering as a kung fu teacher in an orphanage. Since he could not obtain a Pakistani visa, he flew from Mumbai to Shiraz, Iran, and then continued cycling over the steep hills of Armenia, through Georgia and Turkey and arrived during Ramadaan last year in Jordan. "When you have trouble, you go to the mosque," said Du.
He slept in mosques and the locals shared their food and Arabic tea with him in the evenings. Du and his bicycle were ferried across the Red Sea to Egypt a year ago, where a police car followed him for protection and he slept at soldiers' checkpoints from town to town. In Egypt a teenager pulled out a knife and demanded money. Du stared at him and the boy dropped the knife and ran.
He met a cyclist in Addis who was also from China and told him of 22year-oldHuaiyu Yang, who left China in 2012, and was also making his way through Africa by bike. Du and Yang crossed paths in Kenya. As they speak the same language and enjoyed the same food, they decided to cycle together. "Two guys cycling together through Africa is better," said Yang, who arrived in Cape Town with Du. It was also safer sleeping in the bush as a pair.
They saw lions and zebra while crossing the Serengeti National Park and encountered hyenas while camping in the wild in Tanzania.
They cycled through Malawi into Zambia and eventually entered South Africa through Namibia. They spent 10 days travelling down the West Coast.
"It was beautiful, green, with colourful flowers," said Du. "(Cape Town) is like heaven," he added.
Both cyclists said their journey had changed them. "The difficulties in life are not so difficult compared to the difficulties on the road," said Du.
He said he had a broader perspective of the world and has learnt that one must always have hope.
"When you are in trouble there will always be good people to help you. We always have hope."
They leave Cape Town today for Joburg by bus and fly back to China next week.
from:http%3A%2F%2Fcapeargus.newspaperdirect.com%2Fepaper%2Fviewer.aspx%3Fnewspaper%3Dcape%2Bargus%26cid%3D6256&ei=HAZhUvDyFo-BhAf1y4GgAw&usg=AFQjCNF_2iOOGz5sssCactvLEfgLT4VPMg&bvm=bv.54934254,d.Yms
[codepeople-post-map]
February 18, 2012
Updated: February 18, 2012 17:59 IST
Up and away: A heady feeling. Photo: M.S. Gopal

A sense of camaraderie. Photo: Sohini Chakravorty

A small community. Photo: M.S. Gopal
Surfing yogis, bohemian artists, footloose travellers and quirky conversations surround Sohini Chakravorty at the first edition of the India Surf Festival.
The blue waters of the Bay of Bengal and an opportunity to see surfers from across the world battling the waves. No more reasons are necessary for me to land up at the country's first surfing festival. An early morning flight to Bhubaneshwar and a three-hour cab ride later, I find myself at the Konark Puri Marine Drive beach. Long stretches of uninterrupted sand. The February breeze spiked with electronic trance. Decorations of bamboo, strings of colourful threads and wool. Musicians oblivious to their surroundings. And photographers, lots and lots of photographers, amateur and professional, strolling around in search of the perfect shot. Everyone here seems to be travelling light, needing nothing but air to breathe and the sea to set their sights on. I feel like an intruder with my heavy bags. Even my mobile phone has joined the party. It refuses to work.
Out of sync?
The ceremonial inauguration, with a performance of the traditional Chaiti Ghoda dance, feels out of place in this bohemia. The surfers grab their boards and lunge into the waters. There are about 60 of them, from New Zealand, Hawaii and Australia, alongside surfing communities from Mahabalipuram, Vishakhapatnam, Puducherry, Gokarna, Manipal and Kovalam. "It is a beautiful beach and not one bit crowded," says Yogi, attempting to manage both his surfboard and the curtain of wet dreadlocks that closes over his eyes. In Hawaii, he says, a beach like this will be crowded with 400 people. He spent the past six months in Sri Lanka as a surfing instructor. He will spend the next six months in India. "I started surfing when I was five. I learnt it from my mom and dad. Swimming and surfing, that's the only thing we know." He adds, somewhat redundantly, that swimming is one of the key skills needed to survive in Hawaii. As if anyone in that island paradise would choose to sit on a shaded part of the shore and just read a book.
A new sport
Nomadic surfers like Yogi fostered the Indian surfing community. Anudeep, a professional yachter who likes to be called Andy, began to learn surfing five years ago when he came across a surfer from the US. "The surfing community is a small one where everybody knows everybody," he says from Visakhapatnam. Apart from groups like Surfing Yogis, The Surfing Swamis, people like Mukesh from Mahabalipuram have established small surfing institutes, whose graduates are now skimming across these waves. A small crowd gathers around the shore, squinting and craning their necks to catch these surfers and the effortless ease with which they navigate the turbulence of the sea. A man with his camera and tripod wades in, braving the waves to freeze these moments for an eternity. Du Fengyan's journey started on a bicycle from Beijing, continued across Vietnam and Cambodia, and has now ended in India. "You don't need a lot of money to travel," he says. He befriends the locals and stays with them. There are days he doesn't have to spend more than Rs.100. He will now head to Pakistan.
There are people everywhere, and everyone has a story to narrate. An artist named Vinay Pateel, in a white T-shirt and geeky glasses, is setting up his works in a corner. He was an engineer. He hopped off the treadmill in order to specialise in digital art, a sample of which is on display in the logo on the T-shirts for the event, that of a bearded yogi communing with the waves. Elsewhere, the logo seems to have erupted to life. There are many yogis around me, communing with the waves and with each other. The India Surf Festival, contrary to the name that suggests the commingling of big-name detergent manufacturers, is a melting pot of the most interesting people. A textile designer and with her documentary-filmmaker husband. An engineer turned bookshop owner. An animation artist with her sporting mother.
Feel at home
As the sun sets, Argentinean Sebastian Vilarino begins to juggle in rhythm to trance music. He is joined by the Indie band The Mavyns, with their quirky rendition of songs of The Ventures, and Tribal Flora, a music band from Mumbai that experimented with mouth harps, didgeridoos, drums and flutes. Trip Tandav opted for psychedelia, an amalgam of Sanskrit slokas and bhajans underscoring live painting by artists from the Nova Collective. I spend my first night at the surfing village, and the next morning I am greeted by friendly voices which made me forget I am on my own. Everyone's a friend here, and every friendship has a story. Sand artist and sculptor Sridhar Dash has befriended Scott Jeffery, an Australian who quit his television job in London and began globetrotting on a bicycle with little more than a tent and a very effective GPS. Jeffery has learnt that Dash had no online presence, and he has promised to enshrine his friend in a website before he heads out east. Sanjay Samantaray, founder of Surfing Yogis, the organising group, says, "A surf festival is about 50 per cent surfing and 50 per cent art." It is also about people, one hundred per cent.